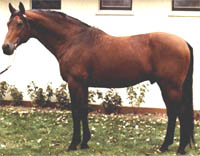 1966 bay - Bred by Dr Hans Dietrich Wagner, Germany. Tannenberg *E* was Reserve Champion of the 1968 Neumünster approvals. The German Stallion Book provides the following comments:
Excellent in the type of the Trakehner horse with beautiful, masculine head; best position, length and carriage of the neck; good shoulder and good withers; harmoniuous body overall that is carried on four good, correct, sufficiently strong but a bit long legs; the midsection of the body is well-coupled to the forehand and hindquarters; particularly emphasized should be the broadly set hocks; his way of going is elevated and impulsive, very slightly paddling in front; in spite of his size he is very uniform overall and significant in his overall impression. His magnificent type is usually passed to his get, and so is the harmonious overall figure, with a rather good way of moving; good medium size is predominant.
He was a popular sire in Germany until being imported to Canada in 1975. He has more approved Trakehner sons than any other ATA stallion, 10 German-bred and 1 American-bred. Among his German-bred sons were the well regarded Schiwago, Herztrumpf and Morgenstrahl. His American son Meistersinger *Ps* is a well respected FEI dressage horse and sire of FEI dressage horses.
Tannenberg *E* was also an outstanding broodmare sire. He left numerous outstanding daughters in Germany. Among them Maiglöckchen III, dam of stallions E.H. Maizauber and Maiklang, Unkenspiel dam of stallion Unkensee. In addition to Rolling Oaks Farm own Donauperle, his ATA daughters include Maranja dam of ATA stallion Martini *Pg*E* and Alouette dam of ATA stallion and FEI dressage horse Apache.