ABIZA
---
---
"THE ULTIMATE BROODMARE"
---
As is evidenced by the pedigrees of many of our horses, Abiza has had a tremendous impact on our breeding program. Called by one French newspaper "the most influential mare ever in the Trakehner breed", the name Abiza shows up in the pedigree of the majority of our horses, both stallions and mares. In some instances, she appears on both sides of the pedigree. Her contribution to the Trakehner breed and the Sport Horse world is measured not only by her reproductive capacity, but also by the performance results of her offspring, now into the 6th generation!
Foaled in Germany in 1963, Abiza was purchased from the Trakehner Verband breeding farm at Dirkhausen, in South Germany, in the summer of 1970. It was with great difficulty that the purchase of Abiza was realized. Dr. Fritz Schilke, director of the Trakehner Verband at that time, was extremely reluctant to part with this mare. The deciding factor in his decision to part with her was the fact that Abiza had had 3 fillies in Germany already. If she was as good as everyone believed, these three fillies would establish themselves as good broodmares in Germany, and Abiza's genetic characteristics would be continued. Dr. Schilke realized the potential for the Trakehner breed in North America, and agreed to sell Abiza for 20,000 DM (Approx. $6,000). In foal to Donauwind, Abiza arrived in Canada in September of 1970, with the stallion Handel, who had been purchased from a private breeder.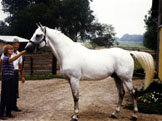 In December, she delivered her Donauwind foal, a colt which was later bought by Terri and Sue Williams of Middleport, New York, and to this day is probably the most famous Trakehner in North America. Abdullah needs no introduction. Under Comrad Homfeld, a partnership which started only in the winter of 1984, the pair achieved a level of performance in the next 3 1/2 years which is arguably unprecedented in the history of international show jumping. In the face of the toughest competition, they gained a place on the U.S. Team for the 1984 Los Angeles Olympics, and following a team gold medal performance, took the individual silver after having tied for first place, but losing in the jump off. At the 1985 World Cup finals in Berlin, West Germany, Conrad and Abdullah had what many considered to be their finest hour. Not considered to be at his best indoors, Abdullah was at his finest, winning the World Cup. Rather than retiring as the greatest jumping stallion the world has ever seen, Abullah was kept in work, and again selected for the 1986 World Show Jumping Championship in Aachen, West Germany. At this competition the award for the most successful horse was won by Abdullah, with only one rail down in the four final rounds.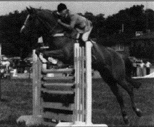 Meanwhile, the mare Aida, by Handel, foaled in 1973, had been performing with considerable success as a grand prix jumper under Jim Elder. Having been in the ribbons several times in international competition, she was also selected to compete at the 1984 Olympics, for the Canadian Team. Aida did not make this trip, however, and was retired to the breeding barn in 1985. One of only a handful of mares classified as "Elite" mares by the ATA, she has continued the family tradition of producing top quality horses, by producing such stallions as Astrahan, and Aberdeen.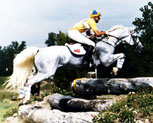 Amiego, foaled in 1974, by Handel, was sold as a two year old to John Krenger of Illinois, and stood at stud in the Chicago area from 1977 to 1986. He also stood in Germany for a season, covering approx. 120 mares in one year, after showing the Germans an incredible jumping ability! After starting in eventing only in the spring of 1986, Amiego placed 5th at the 1986 Canadian Intermediate 3-day Event Championships. He then went on to win the individual bronze medal at the 1987 Pan American Games, under Peter Gray of Bermuda.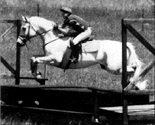 Archibald, the gray gelding foaled in 1975, also by Handel, was considered by some to be Abiza's most athletic foal. A consistent winner in the open jumper division, "Archie" was switched from the stadium ring to combined training in 1984. In 1985, he placed 12th at Lexington, Kentucky, Intermediate Three Day Event, and 2nd at the Intermediate Three Day Event at Bromont, Quebec, under Sue McTavish.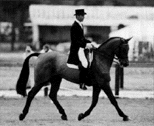 Anton, foaled in 1978, by Tannenberg, enjoyed a successful career as a Three Day event horse, placing third at the 1987 Canadian Intermediate Three Day Event Championships at Checkmate, Ontario. He placed second at Checkmate CCI** in 1991, and qualified for the 1992 Olympic Games in Barcelona.

Astor, foaled 1979, by Merkur, from the perspective of conformation undoubtedly Abiza's best and among the best seen at the American Trakehner Association's annual stallion approval, slipped on ice and had to be put down as a three year old.
Adrian, foaled in 1980, by Merkur, is the last foal from Abiza. He competed for national honours in the U.S. at Third Level Dressage, and was a consistent winner in the Open Jumoper divisions, under Chris Kappler.
Abiza has also given us several top quality mares as well. Those 3 fillies born in Germany have also had an impact on our breeding program. The oldest filly, Andacht, was born in 1966. She, in turn, produced Abendstille, from whom Abendmarchen is descended. The second filly, Absage, foaled in 1967 was purchased from Germany, after we had seen the foals being produced by Abiza in Canada. Absage produced a number of foals, and is still with us today, although her reproductive career has ended.The mare Abbahannah, is a daughter of Absage. Another Abiza daughter, Alouette, is still giving us top quality horses today. Her offspring include the ATA and CSHA approved breeding stallion Apache, as well as the mares Aloha and Ada.
What was it about Abiza that made her so special? What made her such an outstanding producer? More important, what lessons can be learned from her by those who would like to acquire a similar animal, if such were available?
With get by five different stallions, Abiza has shown evidence of a genetic dominance which certainly places her in a very small group of elite mares that are capable of producing outstanding performers, regardless of the stallion to whom they are mated. As a three year old, her measurements were 15.3 hands, 75" girth, and 7 3/4" cannon bone. Abiza continued to develop, to the point where her measurements were 16 hands, 78 1/2", and 8". Her evaluation marks for type, conformation, gaits/impulsion, and overall impression were given on a scale of 0-6, and indicate the assessor's opinion of these traits. Abiza's scores were 2,2,2/2,2. All these marks indicate good scores, where a score of 0 is considered excellent. When first seen, she was an attractive horse, with a rather heavy coat, large intelligent eyes, and a very compact frame with a deep barrel and square , solid hindquarter. Her neck was perhaps shorter than ideal, and her pastern could have been longer, but she stood squarely on four very good legs. She was a very feminine mare, but perhaps less elegant than some. Undoubtedly, there were, and are, prettier mares, but the best are not always the prettiest. She had an outstanding temperament, was an easy keeper, and invariably delivered her foals without assistance. She was a very fertile mare, and was a good milk producer.
Through her sire, Maharadscha, she is a paternal half-sister to the outstanding West German breeding stallion Flaneur, who has sired at least 15 approved breeding stallions. Stallions frequently gain early recognition through their sons, but the outstanding ones make their mark through their daughters, at least as far as breeding stock is concerned. Abiza was unquestionably one of those rare ones.....a super mare.
Abiza - a mare the likes of which few of us are privileged to know once in a lifetime, and most unlikely to see ever again!
---
You are visitor
Copyright 1998-2007, by Galten Farms Ltd.